Company profile
---
Fuxin Hongshun Machinery Co., Ltd., located at No.109 and No.111, Shengyuan Road, Fuxin Economic Development Zone, Liaoning Province, was founded in 2003, with a total asset of RMB 230 million yuan, covering an area of 42,000 square meters and a building area of 30,000 square meters. It is a modern private enterprise integrating foundry production, mold making and machining. It is a high-tech enterprise, a member unit of China Foundry Association, one of the top 30 foundry enterprises in Liaoning Province, and an advanced unit of economic operation in Fuxin City.
The main production equipment includes Japan Sinto FBO automatic molding production line, resin sand production line, static pressing line, shell molding line, aluminum alloy gravity pouring production line, three-axis linkage casting machine, energy saving and environmental protection cleaning system, mold development and production center, etc., with an annual casting production capacity of 44,000 tons.
The machining workshop has the horizontal machining center of DMG NHC6300 from Germany, Goodway GS-3600L turning center from Taiwan, Campro CNV-900 machining center from Taiwan, and more than 30 intelligent lathes, with an annual production capacity of 200,000 pieces of water treatment pump bodies and 300,000 sets of high-pressure gear pump bodies.
Products made of different materials (gray cast iron, nodular cast iron, vermicular cast iron and aluminum alloy castings) such as hydraulic valve body, valve seat, gear pump, automobile power steering pump body, pump cover, swing motor, water outlet connector, oil chamber base, bell mouth, etc. are used in many fields such as automobiles, construction machinery, water treatment systems, urban buildings, rail transit, ships, etc.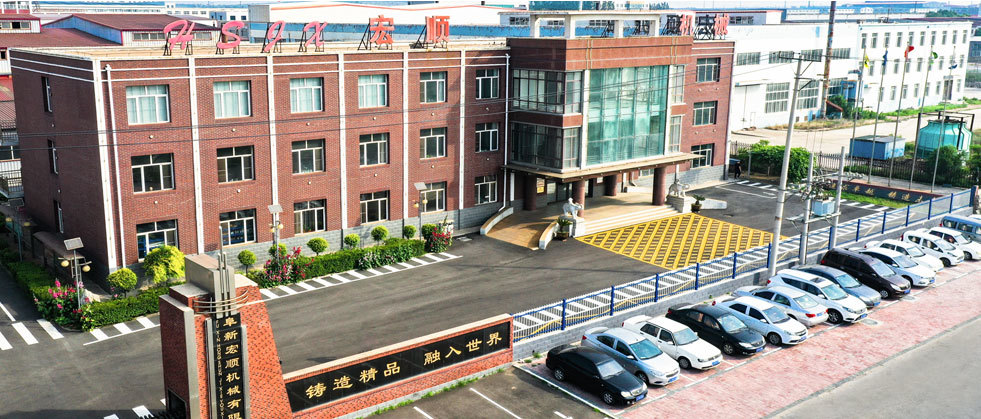 The Company strictly implements foundry industry standards, and has passed IATF16949 Quality Management System certification, ISO 9001 Quality Management System certification, DNV.GL Classification Society certification, ISO 14001 Environmental Management System certification and ISO 45001 Occupational Health and Safety Management System certification. By the application of the casting simulation software AnyCasting, the test times of new products are reduced, which accelerates the development speed of products and quickly meets customers' needs.
The Company has advanced equipment, such as independent product testing center, chemical laboratory, utilization type sand testing analyzer, furnace front analyzer, Shimadzu spectrum analyzer from Japan, carbon and sulfur analyzer, universal tensile testing machine, Brinell hardness tester, metallographic analyzer, all-digital ultrasonic flaw detector, 3D scanner and HEXAGON three-coordinate detector, to monitor products and processes in all directions, and wholeheartedly provide customers with reliable products and quick and efficient services.
In the spirit of innovation and truth-seeking, all employees of the Company have worked together and studied hard, and successively obtained dozens of patents, established the teaching practice base of Foundry College, the research and development base of hydraulic cast iron engineering technology in Fuxin City, and the research and development base of vermicular cast iron. "Human-oriented" is the eye of the Company's development, and "Going out and bringing in" is the main policy of personnel training. With humanized management system and development vision, Hongshun Machinery pays close attention to the happy growth of every employee, actively participates in the technical exchange and training of foundry industry at home and abroad, establishes the cooperative relationship of production, education and research with universities and scientific research units, and introduces high-end technical talents, to lay a solid foundation for process improvement and technological upgrading, and create a good enterprise environment for the stability of talents.
On the way to globalization, Hongshun is not a pioneer, but a persistent dream pursuer, anchoring and sailing, chasing the wind and waves. In the great era of rapid development, Fuxin Hongshun Machinery Co., Ltd. has become a fluttering flag in the foundry industry.